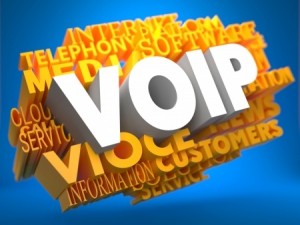 VoIP, or Voice over Internet Protocol, offers businesses of all sizes an unrivaled opportunity to save money on their telephone systems. VoIP is the process of taking analog audio signals and turning them into to digital data that can be transmitted using a business' internet connection. Voice over Internet phone service has, in many ways, revolutionized the way businesses approach their telecommunications needs. The benefits of VoIP are clear. It can be more flexible than a traditional phone system, it's highly responsive and easily integrated into a business environment, and it can be significantly less expensive than standard telephone service. However, VoIP is often accused of being less reliable than traditional phone service, and naysayers are quick to claim that Voice over Internet can't provide the consistent quality that businesses need in a telephone network. So how can small business owners take advantage of the savings and flexibility offered by VoIP, and still ensure that they have a high quality, reliable, telephone system? Well, it's not as difficult as it may sound.
Step 1 – Assess Your Internal Network
The first step to ensuring high quality VoIP service, is to run a thorough assessment of your internal VoIP network. Examine your network's infrastructure, and run a few tests to to see if it offers the necessary free bandwidth to handle your VoIP traffic. Without enough free bandwidth your VoIP service will be unable to give you the quality and reliable you expect in a phone system.
Step 2 – Examine Your Internet Provider
Your internet provider is the second most important component of your VoIP telephone system. Since VoIP uses the internet to transmit data, it is vital that your service provider is able to give you the increased bandwidth that you will need to send and receive calls. It is important to remember that many VoIP services are sold "over the top", and your VoIP provider may have little control over what happens to the data packets as they travel through the internet. Consequently, having a reliable internet service provider who can offer the high bandwidths you need is vital. Be prepared to spend a little extra on your internet service in order to secure the necessary bandwidth for your VoIP system. In the long run, you will be saving much more on your telephone costs.
Step 3 -Monitoring Your Network
Once your internal and external networks are set up, it is important to install a network monitoring device. This will allow you to analyze your network traffic, and to avert and troubleshoot, any possible quality issues that may arise. Regular monitoring of your network will also allow you to make changes to your service, and to add or remove phone lines as needed.
Step 4 – Choosing a VoIP Service Provider
Before signing a contract with a VoIP service provider, you will want to fully review their service level agreements and their customer service options. Most VoIP service providers offer a standard service level agreement, which is simply a guarantee of service up-time. A few, however, will offer above average up-time with extensive customer support. Look for the provider that offers the best up-time commitments, and that provides the comprehensive customer support you need.
Step 5 – References and Research
Again, before signing any contracts it is important to do a little research. Many small businesses experience quality issues with their VoIP phone service because they have partnered with the wrong service provider. Ask to see customer references from any potential VoIP service provider, and follow those references up with a call or an email to the original customer. Use these referrals as a way to get background information on the service provider, and ask those customers about their experiences with their VoIP service. You should also do some independent research by taking to the internet to look for unbiased customer reviews for the service provider you are considering.
Voice over Internet phone service can be a boon to small businesses. It can not only save you money, but it can put a sophisticated phone network at your disposal. However, to ensure that your new VoIP phone network provides the quality and reliability that you need, it is important to do your part. By following these five simple steps, you will be well on your way to enjoying the full benefits that VoIP has to offer.