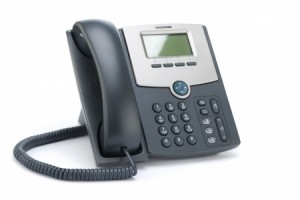 Projecting a sophisticated and professional image is vital for every small business, particularly start-ups. For most businesses, their first direct contact with potential clients and investors is by telephone, and that means that their service needs to be fast and efficient. It also needs to be cost effective, particularly in today's economy. For years, sophisticated telephone systems were the exclusive province of large corporations. But today, new advances in VoIP telephone technologies have put that sophistication well within reach of the small business owner. In a fast paced and competitive marketplace, where first impressions are everything, VoIP gives small businesses the versatility and flexibility they need in a communications system, and at a price they can afford.
VoIP Basics
VoIP, or Voice over Internet Protocol, is a technology that allows telephone calls to be made over an existing internet connection as opposed to a traditional analog land-line. Voices are compressed into data packets which can be transmitted via the internet. This process makes it possible for VoIP hosting services to offer small businesses a wide range of telecommunication features and benefits at a fraction of the cost of traditional telephone service. With VoIP, small business have access to the telecommunication features that were once reserved for large corporations.
What Can VoIP Offer the Small Business Owner?
A VoIP telephone system offers a wide range of services that would otherwise be out of the financial reach of most smaller businesses. These features give business owners the professional edge they need to compete in a crowded marketplace.
Auto-Attendant and Call Routing – Incoming callers are greeted with an automatic message, and are then routed to the appropriate department or representative in the company. Incoming calls can even be routed directly to sales personnel in the field via their cell phones. This allows for easy communication between company and customers, without the need for a receptionist. These features also ensure that customers receive the efficient and professional experience they look for in the companies with which they choose to do business.
Voice mail to Email Conversion – This feature is particularly valuable for businesses with sales personnel in the field. When customers leave voice mails for particular departments or sales personnel, they can be converted to text messages which will be forwarded directly to the relevant parties cell phone. This means that your representatives are never out of reach of your customers, and that you and your employees can respond to client's needs as quickly as possible.
Easy Online Management and Customization – With VoIP business owners can quickly and easily manage their internal telephone network. Users can change settings, add new lines, customize call forwarding instructions, and update the auto-attendant greeting all from an easy to use online interface. This particularly important for growing businesses who may need to make changes to their telephone system quickly and efficiently.
What to Look For When Choosing a VoIP Service Provider
When choosing a VoIP service provider for your business, there are a few key points to consider:
Features – Determine what features best suit your business' needs. Look for the VoIP service that will customize the service to meet your usage needs.
Cost – Price is always an important consideration for any small business, but weigh the total cost against what is being offered. Some VoIP services may be less expensive, but may not offer the features and scalability that are right for your business.
Hardware and Software – Determine what hardware and software you will need, including phones, headsets, and routers. It is also important to verify that your broadband service can support the VoIP technology.
Phone Number Portability – Ask if you will be able to keep the telephone number associated with your current land-line. Also ask about your telephone's exchange, and whether or not local callers will be charged a long distance fee.
Emergency Numbers – Make certain the VoIP service offers E911, or enhanced 911, services. This is especially important is the VoIP system will be the only telephone connection for your company.
Technical Support – Ask if the VoIP provider offers free technical support, or if there will be any extra fees or charges.
Communication is vital to the success of any business, and is the lifeline that connects companies with their customers. VoIP offers small businesses the opportunity to upgrade their telephone systems, taking advantage of features that will put them on par with their larger competitors, all at a fraction of the cost of traditional analog telephone service.