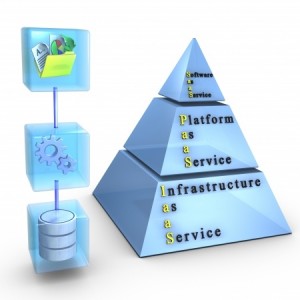 The world of cloud computing can be a confusing one for small business owners looking to make the transition to a cloud-based computer network. Too often inexperienced business owners view the cloud as a single amorphous environment, offering the same advantages and services to everyone who joins it. However, it is important for business owners to understand that there are different classes of cloud services, and they are not all suitable for every size and type of business. What works for one enterprise may not fulfill the needs of another, and business owners need to choose the right cloud-based service to fully enjoy the benefits it has to offer.
IaaS vs PaaS
For small businesses and start-ups, there are two basic cloud services to consider. Infrastructure as a Service (IaaS) is a limited cloud-based service in which the vendor provides the basic infrastructure for a business' network, including data storage, computing resources, and virtualization technology. With IaaS businesses must still maintain their own IT team. The IaaS provider will provide an operating system, but your team will have to manually configure, manage, and monitor it.
With Platform as a Service (PaaS), the vendor provides not only the infrastructure, but all of the attendant applications the business needs to get their network up and running. A PaaS service will typically include the operating system, data base, software and operational tools. With a PaaS cloud model the vendor handles all of the operational tasks, including configuring, monitoring, and updating your cloud-based network. This is why PaaS cloud services tend to be the best solution for smaller businesses who typically can't afford to keep a full time IT team on payroll.
The Financial Advantages of PaaS
Subscribing to a Platform as a Service model can help small businesses greatly reduce their computer networking costs in a number of different ways.
Server and Storage Costs – With PaaS a small business does not need to absorb the costs of monitoring and maintaining a bank of on-site servers. The power requirements necessary to maintain a server is considerable, even when it is dormant, and is typically cost prohibitive for smaller businesses. With PaaS servers are maintained off-site by the cloud service vendor, and storage capacity can be increased as needed according to the contract agreement.
Software Maintenance – With PaaS the platform vendor not only monitors the hardware, but also manages all of the necessary patches and software updates. The business subscriber pays a monthly fee, which covers the application of patches and updates for both the hardware and software, and offsets any possible licensing and maintenance fees.
Support Staff – Keeping both hardware and software up to date, fixing problems when they occur, and responding to possible crashes and down-times takes round the clock maintenance. Small businesses can rarely afford to keep an IT team on call twenty-four hours of the day, and PaaS offers the perfect solution. As part of the regular monthly fee, service personnel are on call 24/7 to respond to any issues that may arise.
PaaS Delivers Improved Productivity and Greater Flexibility
In addition to the obvious financial advantages, PaaS also offers a wide range of operational advantages for the small business. With software development and deployment being supervised off-site by the PaaS vendor, business owners and their staff are free to concentrate on matters at hand. Cloud-based applications are ready to be used at a moments notice, and are streamlined for easy use by everyone in the office. Staff can access the cloud from any terminal, increasing office productivity and giving your staff the flexibility they need to better serve your customers and clients. Software updates keep your office running smoothly, ad your office workers operating at peak efficiency.
Transitioning to a cloud-based network begins with understanding what type of cloud environment best suits your business. For small businesses, who may not have the resources to maintain on on-site data center, and to employ a dedicated IT team to manage their network, Platform as a Service may provide the answer to their computing needs.