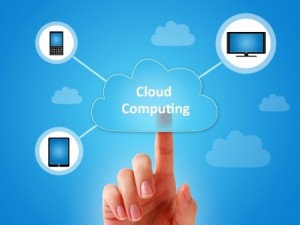 Cloud computing has taken the business world by storm, if you'll pardon the pun. It's cost effectiveness, ease of implementation, and inbuilt redundancy makes cloud computing ideal for small businesses who may not have the financial resources to build and maintain their own network infrastructure. However, as welcome a solution as cloud computing is for small businesses, there are still security issues to be considered. Cloud computing is a safe, and effective, solution to many businesses computing needs, but all computing systems are vulnerable to some extent, and even the cloud can be breached. Small businesses who are making the transition to the cloud still need to be concerned with security, and with protecting their date from loss or theft. If you have turned to the cloud to supply your business' computing needs, consider the following tips for keeping your data secure.
Passwords
Log in passwords take on an even greater importance for businesses using a cloud based computing system. Unfortunately, as people have become more comfortable with computers they have also become more blasé about their passwords. This can be highly problematical in a cloud based business environment. Passwords for the primary server should be limited to as few employees as possible, and should be changed regularly. Employees accessing the cloud from their desktop should each have a unique password of their own, and should be taught the importance of creating strong individual passwords.
Data Encryption
This is particularly important for businesses storing proprietary information on the cloud, and for e-commerce businesses that will need to store their customer's personal data. While most cloud computing services offer basic levels of security, any system can be breached if the hacker tries hard enough. Adding a level of encryption to your data will ensure that it is further protected in the event your cloud service provider's servers are breached. The level of encryption you use will be largely determined by the type of data you are handling.
Isolate Company Data
One of the chief benefits of cloud computing is that it makes it possible for employees to access data from any mobile device. While this makes their jobs easier and more efficient, it also creates a greater number of possible breaches to security. To combat this, make sure that all corporate data is kept separate and isolated from any employee's personal data. Check mobile devices regularly for any vulnerabilities, and ensure that they are kept up to date with the latest software protection.
Traditional Security Measures
Moving to a cloud based computing environment does not mean abandoning traditional security measures. Anti-virus and anti-spyware software should be installed on all devices that have access to the cloud. Similarly, an effective firewall remains one of the best deterrents to unauthorized access to your data cache. When relying on a cloud based computing network, remote access will be available to a large number of devices so it is important to maintain a firewall that limits access to only those areas necessary for your employees to perform their assigned tasks. An effective firewall, along with anti-virus and anti-spyware programs, is still the best protection against malicious attacks and data theft.
Service Provider Audits
Not every aspect of security can be handled on the user end, and it is important for small business owners to have confidence in their cloud service provider. Unfortunately, not every service provider is created equal, and they have not all been audited and certified as meeting the SOC2 requirements for security, integrity, privacy, and confidentiality. To ensure security at the heart of your cloud computing environment it is important that small business owners research their service provider to ensure that they have been recently audited, and that they have been SOC 2 certified.
Cloud computing has become very popular with small business owners, and for good reason. It provides a cost effective solution to the advanced computing needs that businesses need to remain successful in a competitive marketplace. But cloud computing has its own security concerns, and it is important for small business owners to consider their security needs when making the transition to a cloud computing environment.